The Department of Energy (DOE) and the American Society of Heating, Refrigerating and Air-Conditioning Engineers (ASHRAE) collaborate to create commercial HVAC performance standards. These protocols rely predominantly on efficiency, given the outsized impact of HVAC systems on utility costs for building owners.
DOE and ASHRAE Standards
In most cases, the DOE follows ASHRAE guidelines for efficiency, with ASHRAE 90.1 being the predominant guideline for most commercial HVAC systems. One major difference in years past and rules approved in 2018 is the testing standard used. For years, the standard was the energy efficiency rating (EER), but this only measured an HVAC system running at full load.
In the real world, there are only a few days a year when a system is operating at 100 percent capacity. Instead, air conditioning and heat pumps often operate at partial load and as such, the new standard integrates partial load efficiency in IEER (integrated EER). We've provided a more detailed comparison between the current and future requirements below.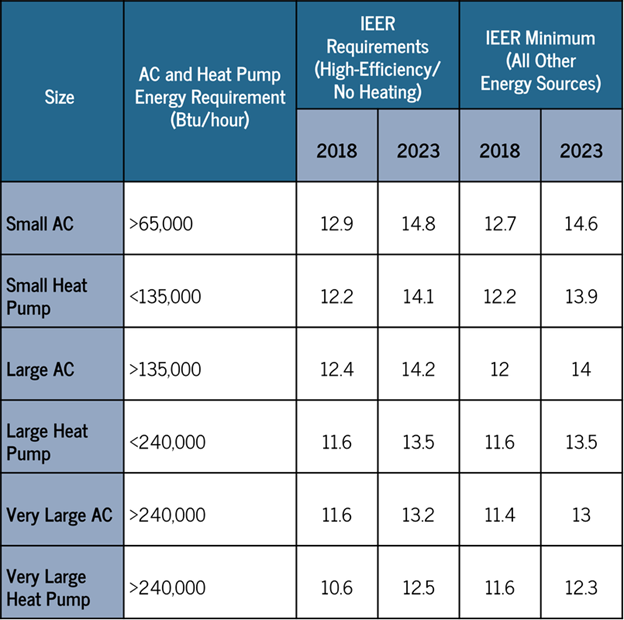 Recent and Upcoming Changes in Regulations
2023 is fast approaching, and HVAC manufacturers are working hard to upgrade and refine their equipment to meet the upcoming regulations. In just under a year, all new rooftop units will need to be at least 15 percent more energy efficient than their current counterparts—a significant difference.
This, combined with the fact that the measurement protocol has changed, has led to significant changes in fan design, motor selection, and many others. As manufacturers adapt, facility managers and servicing technicians must ensure the parts they use are able to work with these more advanced systems.
Find Parts That Meet All Commercial HVAC Standards of Performance
As a leading distributor for the most trusted names in commercial HVAC and dehumidification, Affiliated Parts has the kits that you need to maximize the performance and efficiency of your systems or those of your clients. Shop our complete list of replacement components that meet all commercial HVAC standards of performance or contact us for more information.